A 100 year old Kenyan man has become the oldest tracker to have ever visited the gorillas. Charles Mugane Njonjo did a gorilla trek in Mgahinga Gorilla National Park in celebration of his birthday. If gorilla tracking was on Charles' bucketlist, he can successfully tick it off.
Mzee Njonjo as often referred to by "Kenyans" turns 100 years on January 23rd 2020. Accompanied by his family, Njonjo was flown by helicopter to Mgahinga National Park.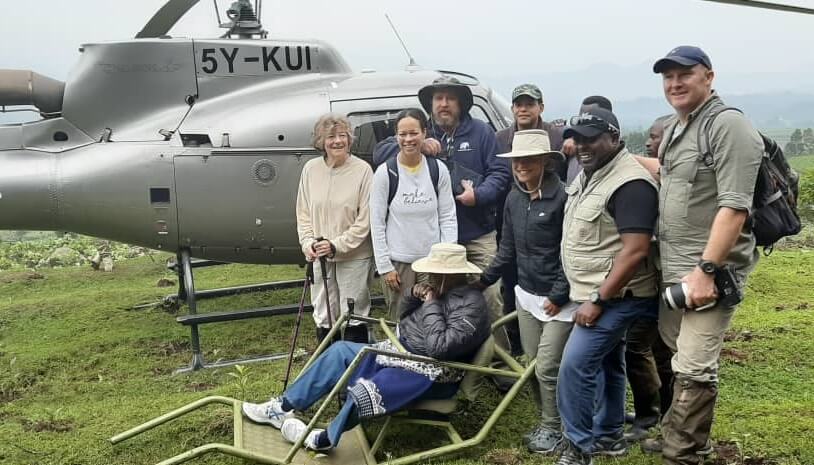 After getting to the park headquarters, Charles used a local stretcher to access the gorilla family that he was allocated to. The local stretcher (also known as sedan) has been designed in the forest to carry the disabled or old tourists interested in visiting the gorillas in their natural home. The sedan chair costs an extra US$300 to hire and it involves a team of six to twelve porters who in turns carry the visitor to the forest.
Njonjo studied at King's College Buddo and attended the school with King Freddie (Kabaka Edward Muteesa II of Buganda Kingdom). "I am very fond of Uganda and what I got from You. I was lucky to see gorillas, two young ones and two big male".
Charles is Kenya's first pots-independence Attorney General and he worked under President Jomo Kenyatta, the first president of Kenya. He was a British trained barrister and is one of Kenya's most influential and wealthiest citizens. He is known to have secretly held talks with the Israeli's commandos to land in Kenya during the 1976 hostage crisis at Entebbe.